Delivery to UK, USA / CAN is Free over £19.97 / $19.97.
The World's Greatest Art
Sort By:
Arts & Crafts is a celebration of the design movement that started in Britain and spread around the world at the end of the 19th century. Depicting both well-known and unusual art and artifacts from this most fascinating of eras, this book provides information about the lives and times of the designers, architects and artists who created them.
Over the centuries, the exotic elegance of Asian art has been a source of fascination for artists and art lovers worldwide. This comprehensive book explores the diversity of art and artefacts from around Asia, detailing the subjects, the materials used in their making, and the lives of the artists and artisans who created them.
Bringing to life the work of artists such as Monet, Renoir and Pissarro, Impressionism takes the reader back to Nineteenth-century Paris to explore one of the most influential, lively and popular art movements in the history of art. A comprehensive, but accessible guide.
This new book in the series follows Leonardo da Vinci's artistic development, from early drawings and paintings while apprentice to artist Andrea del Verrocchio, to his later works, including the renowned Mona Lisa as well as his scientific observations and inventions that still impact the world today.
Follows the rise and fall of one of Britain's most fascinating and original artists and designers of the twentieth century. Covering everything from his early architecture, furniture and decorative arts to his late watercolours, this book provides the reader with information on the life and work of Charles Rennie Mackintosh.
Monet's famous painting "Impression: Sunrise, Le Havre" represented the most innovative - and later most popular - art movement the world had ever seen, and its appeal endures today. Organized into five sections on life, society, places, influences and techniques, this book enables the reader to consider Monet from different angles and contexts.
The Pre-Raphaelite Brotherhood was a group of English painters, poets and critics, founded in 1848 by John Everett Millais, Dante Gabriel Rossetti and William Holman Hunt. Now back in print, this book features examples of work by all the key artists and offers an comprehensive overview of the movement.
A stunning exploration of the life and work of one of the world's most extraordinary, albeit misunderstood artists. From his early draughtsmanship and Dutch landscapes through his Parisian Impressionist phase to his final, unique paintings, every facet of his life is celebrated through a carefully selected range of famous and lesser-known pieces.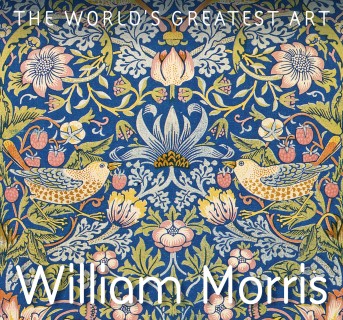 Artist, poet, writer, campaigner, designer, book printer and pivotal figure of the Arts and Crafts movement, Morris is best known today for his beautiful wallpaper and textile designs. With sections on life, influences, techniques, politics and Arts and Crafts, this book enables the reader to consider Morris from different angles and contexts.